Your order status page on your account allows you to verify which items were on your order as well as check the tracking information and sign up for any additional order updates.
If you want to visit your order status page, please use the order confirmation email you received when you placed your order. It will allow you to track your package through our website. If you have trouble finding your order confirmation email in your inbox, we recommend searching your spam or junk folder and entering Thrive Causemetics into the search bar.
The email you received will look as such: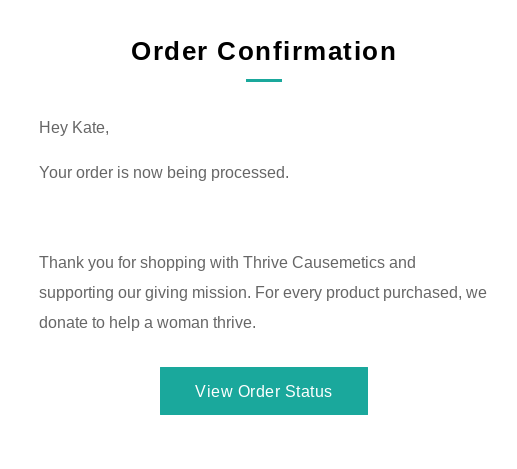 You can click the turquoise View Order Status button to view your order status page. There you will see the tracking information, the items you ordered, and allow you to sign up for Facebook order updates or shipping updates via text.
*If you reached this FAQ page through a suggested article after sending us an email, please do not mark this ticket as resolved as it will close your request and our team won't be able to assist you.